08 November 2016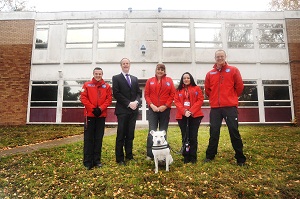 A search and rescue charity which assists the police in finding vulnerable missing people has moved into its very first permanent base in Warwickshire.
Warwickshire Search and Rescue has moved into Allander House at Stoneleigh Park.
The Lowland Rescue team, made up of around 50 volunteers, was set-up three years ago to support the police with searches for vulnerable missing people in Warwickshire and beyond.
Until now the team has used Foleshill Fire Station, in Coventry, as a training base but has not had a dedicated permanent home.
The new office will not only act as a place to train, but also a storage facility for essential equipment used by the team on call outs.
Warwickshire Search and Rescue receives no government funding, and the unpaid volunteers are on call 24 hours a day, 365 days a year.
The charity also has a dog team, used to cover large areas and those that are difficult for human teams to search, and a kayak team, which is used when water searches are required.
Volunteers are called on by local police and neighbouring forces to provide valuable search management services and physical resources to search on land and inland waterways.
Phil Hewish, Chair of Warwickshire Search and Rescue, said:
Having a central base in Warwickshire will make a huge difference to us.
We hold regular training sessions every other week as well as ad hoc sessions, so having a dedicated place to do this whenever we need to will make a huge difference to the whole of the team.
It will also provide us with somewhere to store our equipment as well as our incident response vehicle which is currently kept in the garages of our volunteers.
We rely completely on donations so had to find somewhere which was affordable and also had facilities such as a toilet and a kitchen which Stoneleigh Park was able to provide us with.
We would like to thank Foleshill Fire Station for all of their support as well as Stoneleigh Park for making the space available for us.
Colin Hooper, Stoneleigh Park estates director, said:
Warwickshire Search and Rescue provides an invaluable service to the police and we are extremely happy to welcome its team of dedicated volunteers to Stoneleigh Park.
We look forward to continuing our work with the charity and offering them any future support we are able to provide.
The charity is currently in need of volunteers for its kayak team. For further information, visit
http://www.warksar.org.uk/