26 February 2018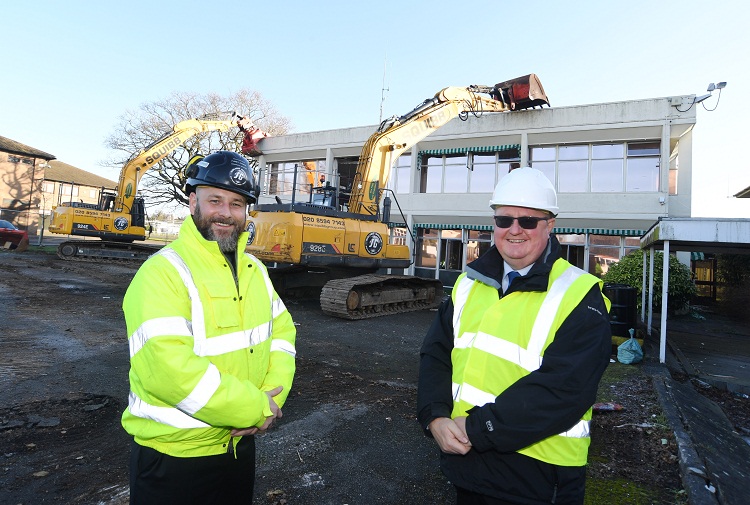 An extensive demolition programme is underway at Stoneleigh Park in Warwickshire marking the next stage in the transformation of the estate.
Around 100,000 sq ft of redundant buildings are being knocked down to make way for future development in line with the consented masterplan for the site.
Squibb Group has been appointed demolition contractor by LaSalle Investment Management which operates Stoneleigh Park.
LaSalle took responsibility for Stoneleigh Park in December 2010 under a 150-year lease from the Royal Agricultural Society of England (RASE), and committed to investing £50 million in a 15-year masterplan to revitalise the site covering more than 1,000 acres.
It has refurbished 27 buildings for existing and new occupiers to date as part of on-going improvements to the thriving estate, which is home to a record number of organisations and employees.
A total of 26 units have been identified as being economically unviable to refurbish and will be demolished on a building-by-building basis to help minimise any disruption to tenants and visitors.
The first to be demolished is the former headquarters of the Agriculture and Horticulture Development Board (AHDB). The building was previously home to RASE, prior to the organisation relocating on site.
The two-storey property became vacant when LaSalle created a new £5 million headquarters for leasing to AHDB in 2014.
Richard Wood, facilities director at Stoneleigh Park, is overseeing the demolition programme which is due to be completed in the early summer.
He said:
LaSalle identified a number of older properties which were vacant and no longer economically viable, and the decision was taken to demolish them to best accommodate future development and to enhance the overall appearance of the park.
I began working here over 20 years ago initially as site engineer for RASE and at one point, my office was in the building which is the first to be demolished.
It is a significant moment in the estate's history and exciting to see the old making way for the new.
A team of around 20 highly-skilled demolition technicians from the Squibb Group will be involved in the demolition programme which will see a wide range of buildings deconstructed, from a small wooden hut to a former 200-bedroom hostel.
David Edwards, contracts manager for the Squibb Group, said:
Our extensive range of company owned plant and equipment perfectly complement the diverse requirements of the project.
There are 26 units of varying sizes to be demolished and we are starting with the second biggest which is the most substantial concrete structure on the phased contract.
We have been in planning to start this project since September. It's great to see our plans come to fruition and to be involved in a project which will refresh Stoneleigh Park for a new chapter in its development.