24 December 2014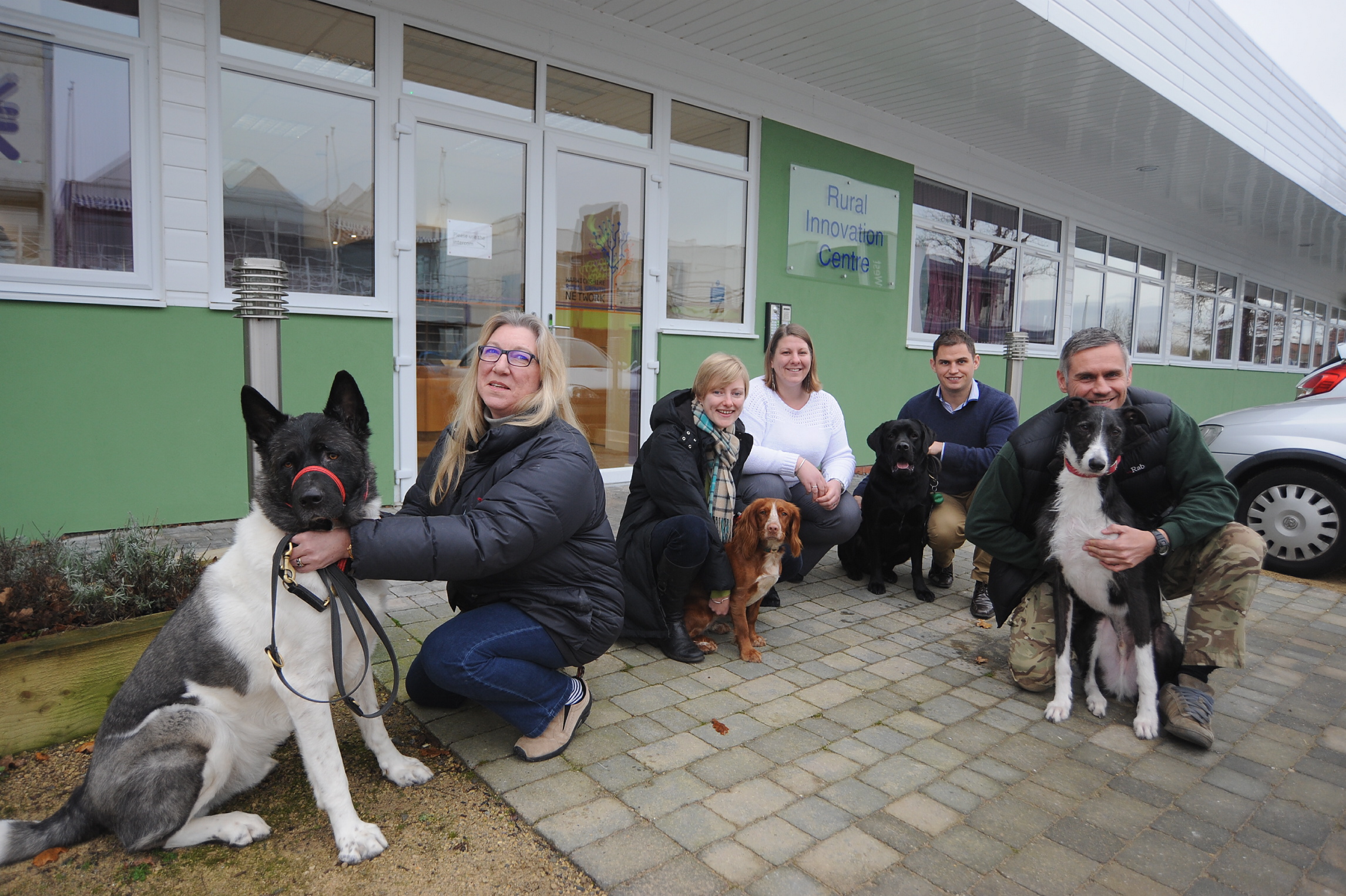 A Warwickshire innovation centre has a host of new tenants – none of them paying rent – and could not be more delighted.
The Rural Innovation Centre at Stoneleigh Park is home to 12 businesses – and at least seven dogs, who turn up for work with their owners.
Percy the Labrador, Amber the English Cocker Spaniel, Otis the Chihuahua, Basil the King Charles Spaniel and Kobe the Akita are among the regular four-legged companions to be found in the offices.
And they have just been joined by Eddie the Lurcher, whose owner Lee Stuart has chosen to base his business at the Rural Innovation Centre because of its dog-friendly policy.
The former Royal Marine started Go Commando Bootcamp from his home in Coventry after being wounded while serving in Afghanistan and has now taken on his own first office there.
Lee said:
Eighteen people turned up for the first session and four years on, we now have about 500 members coming to our bootcamps in Coventry, Leamington and Nuneaton.
With the business expanding, I have taken on more staff and so needed our own office. Most importantly, I needed somewhere that I could take Eddie as I couldn't leave him at home and luckily the Rural Innovation Centre was dog-friendly so that made my decision.
Having Eddie at work is good for morale and relieving stress. It also encourages you to get out of the office and being in such a nice rural location means it's great for dog walking.
Set in over 1,000 acres of countryside, Stoneleigh Park as a whole is popular with dog owners working at the 70 organisations on the estate, many of whom adopt a similar approach.
The Kennel Club is one of the organisations on site and runs a Be Dog Friendly campaign which aims to encourage businesses and public places in the UK to have a dog friendly attitude.
It says there is proof that firms have a more productive and efficient workforce by allowing dogs into the office. Reduced stress levels, increased creativity and improved morale are among the benefits.
Caroline Kisko, Kennel Club Secretary, said:
We're delighted about Stoneleigh Park's dog friendly policy. It is great that such a large organisation is being so proactive in helping us break down barriers for our four-legged friends.
Welcoming dogs in the office brings about many benefits. Our research has shown that four out of five businesses with a dog-friendly policy say it has helped them attract more customers and has had a beneficial effect on staff. Taking dogs out and about, particularly as puppies, gets them used to being around people and dogs and leads to a dog friendly nation.
The Rural Innovation Centre was opened in September 2013 and is part of the Warwickshire Rural Growth Network, funded by DEFRA and led by Warwickshire County Council on behalf of the Coventry and Warwickshire Local Enterprise Partnership.
Liz Burkinshaw, manager of the Rural Innovation Centre, said:
The Rural Innovation Centre is aimed at supporting small businesses and is designed to provide a stress-free environment to help them grow and flourish.
Several of the businesses have moved here from home and so it is important to create a friendly and comfortable, as well as a productive, place to work. Having the dogs here certainly adds to that.