19 October 2015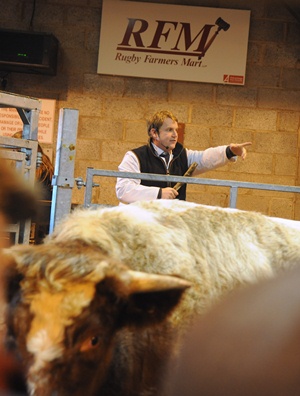 The head auctioneer at a Warwickshire livestock market is bidding to win a national title.
Tom Wrench, head auctioneer and manager at Rugby Farmers Mart (RFM) based at Stoneleigh Park, is a finalist for Auctioneer of the Year in the Farmers Guardian 2015 Mart's the Heart Awards.
Tom is among five people from around the country to have been shortlisted for the prestigious prize which aims to identify and acknowledge popular, driven and progressive livestock auctioneers.
At 31, Tom is one of the younger auctioneers and market managers and is thought to be the second youngest head auctioneer in the country.
Tom comes from a farming background and spent a lot of his childhood visiting livestock markets with his grandfather who was a cattle dealer. After qualifying as a rural surveyor, he sought a career as a livestock auctioneer.
Since joining in 2012, he has brought a dynamic and forward-thinking approach to RFM. The state-of-the-art livestock market has cattle and sheep penning and a sales ring under one roof with weekly sales.
He said:
I'm very honoured to make the top five in Auctioneer of the Year. For me personally, it would be a great accolade to win but the main achievement would be for the market in recognition of how far it has come in such a short space of time.
We have quite a youthful and energetic team and are forward-thinking in our approach, for instance, using technology to improve our operations with live and electronic sales among the advancements.
RFM was founded in 2006 by a group of 250 local farmers and officially opened two years later at Stoneleigh Park to replace the closed livestock market in Rugby.
It is now the largest livestock market in Warwickshire, attracting sellers and buyers from all over the country and recorded record sales in 2014 despite it being a tough year for the livestock industry as a whole with volatility in prices.
Tom said:
My ability to speak fast is not the achievement; it's the achievement of the business. It was started with every penny invested by a group of local farmers with no slush fund and is now running really well.
Twice during this spring, we recorded the second biggest sales of sheep in the country which is no mean feat for a livestock market on the outskirts of Coventry competing with the sheep farming heartlands of Cumbria and Wales.
The winners of the Farmers Guardian 2015 Mart's the Heart Awards will be announced at the annual general meeting of the Livestock Auctioneers Association in November.
Colin Hooper, estates director at Stoneleigh Park, said:
This is fantastic recognition for Tom and Rugby Farmers Mart, particularly as both are relatively new to the livestock auction industry and are going from strength to strength at Stoneleigh Park.
These Awards recognise the vital role that auctioneers and auction markets play in the rural community and to be seen to be at the forefront of that is a tremendous endorsement.