30 October 2015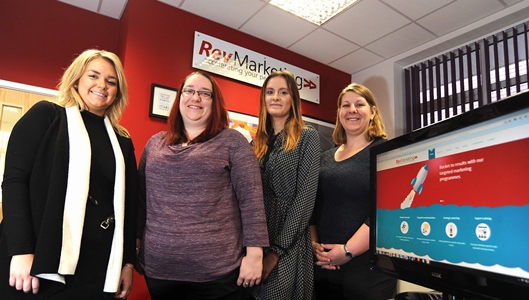 A company has taken on two apprentices within six months of moving into a business hub at Stoneleigh Park to provide a platform for further expansion.
Rev Marketing based at the Rural Innovation Centre at Stoneleigh Park has given Emily Boylin and Alice Thornett their first step on the career ladder with an apprenticeship in social media and digital marketing.
Emily, aged 19, who lives in Stoneleigh, had completed the first year of an undergraduate degree in fashion marketing and branding when she started working as an admin temp at Rev Marketing during the summer.
She said:
Although I enjoyed my degree, I decided I wanted more. Working here over the summer opened my eyes to the practical skills that I could gain through on-the-job training.
When I was offered an apprenticeship, it was a big decision to make as it involved leaving university but I felt it would give me a much more practical route towards a degree and a career.
I'm really enjoying it and definitely see a future here.
The one-year apprenticeship initially leads to a Level 3 Diploma in social media for business with the possibility to progress onto Level 4 and a top-up to a full honours degree.
Eighteen-year-old Alice, who lives in Coventry, chose an apprenticeship over university.
She said:
I had a place at university to study photography but came to the conclusion that I didn't want a qualification in a subject that I felt would be a hobby and not a full-time career for me.
I had covered some aspects of marketing as part of a photography course I did at college and really enjoyed it. At first I looked for a full-time job in marketing but wasn't qualified so decided an apprenticeship would be the best route.
I came here for a work trial and was then offered the apprenticeship. I've definitely made the right decision as I can pursue a career in marketing whilst ultimately studying for a degree.
Rosie Evans, director of Rev Marketing, said she was delighted to have recruited her first apprentices as part of the planned growth of the business since moving to the Rural Innovation Centre earlier this year.
She said:
I wasn't actively looking to recruit apprentices but as soon as Emily started temping for us and then Alice came on a work trial, I could see so much potential.
They both have the right attributes and the willingness to learn which will allow them to learn on the job and us to mould them to the requirements of our business.
The Rural Innovation Centre is part of the Warwickshire Rural Growth Network, funded by DEFRA and led by Warwickshire County Council on behalf of the Coventry and Warwickshire Local Enterprise Partnership.
The building was refurbished by LaSalle Investment Management as part of its on-going transformation of Stoneleigh Park.
Liz Burkinshaw, manager of the Rural Innovation Centre, said:
It is fantastic to see Rev Marketing expanding so soon after moving here and to be giving two local teenagers a great route to a career by learning on-the-job.