17 November 2015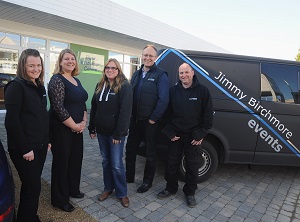 An events and exhibition business specialist within the agricultural industry is deepening its roots at Stoneleigh Park in Warwickshire by expanding into a new office on site.
Jimmy Birchmore Events already had a large equipment storage facility at Stoneleigh Park and has now taken on its first office within the Rural Innovation Centre based on the estate dedicated to rural sciences, innovation and business.
The office will provide headquarters and co-ordination for the company's growing team of four, headed by Jimmy Birchmore, who until now have worked remotely from their homes within Warwickshire and Gloucestershire.
Jimmy, who founded the company in 2009 to provide event, exhibition and design services operating primarily in the agriculture and food, environment and land-based sectors, said gradual business expansion and poor rural broadband service had prompted the move.
He said:
Working from home has served us well over the last few years but now we have more work coming in from a wider client base and a bigger core team responsible for different elements of the business so we needed to spend more time together.The appalling rural broadband service that we have experienced at our homes meant it was inevitable that we would need to move to an office. We had been using the meeting room facilities at the Rural Innovation Centre so it was the obvious choice, particularly given that Stoneleigh Park is already such an important place for us as an operational hub. The serviced office offers great flexibility and connection to ultrafast broadband so we can work together efficiently and effectively.
2014 had been a significant year of growth with the company winning contracts for large-scale corporate events in addition to building upon its design and build exhibition work.Expanding our corporate events portfolio has been a big step forward for us as a business because it has widened our work and allowed us to use more of our core skills, he said.This year has continued to be really busy and the signs are that that will continue into 2016 for both exhibition and corporate work.
The Rural Innovation Centre is part of the Warwickshire Rural Growth Network, funded by DEFRA and led by Warwickshire County Council on behalf of the Coventry and Warwickshire Local Enterprise Partnership.
The building was refurbished by LaSalle Investment Management as part of its on-going transformation of Stoneleigh Park.
Liz Burkinshaw, manager of the Rural Innovation Centre, said:
The Rural Innovation Centre is here to help small businesses in rural parts of Warwickshire to grow and flourish.It is therefore vitally important that we provide access to high-speed broadband, along with other facilities, so that businesses like Jimmy Birchmore Events can thrive.