11 December 2015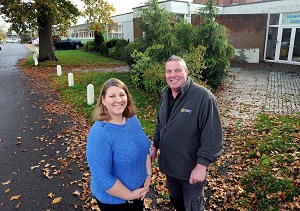 A thriving hub for small businesses at Stoneleigh Park in Warwickshire is to double in size to meet demand.
The Rural Innovation Centre is being extended by LaSalle Investment Management, as part of its transformation of Stoneleigh Park, to create an additional 19 serviced offices – of which more than half are already reserved ahead of opening next May.
Warwickshire-based JW Contracts has begun work to refurbish an adjacent building and directly link it to the existing Rural Innovation Centre which currently houses 16 offices.
The Rural Innovation Centre was opened in September 2013 to help small and new businesses in rural parts of Warwickshire to grow and flourish.
The original centre was funded by DEFRA as part of the Warwickshire Rural Growth Network, aimed at boosting employment in rural areas, and led by Warwickshire County Council on behalf of the Coventry and Warwickshire Local Enterprise Partnership.
Colin Hooper, estates director at Stoneleigh Park, said:
The Rural Innovation Centre has been such a success with near-full occupancy throughout its two years.Liz Burkinshaw, who manages the Rural Innovation Centre, has worked incredibly hard to establish it as a place of excellence and LaSalle is now doubling its size to help more small businesses grow.Work is starting to transform a redundant building next door to the Rural Innovation Centre and already more than half of the 19 newly-created serviced offices have been reserved which highlights the very real demand for these types of premises.
The extension will mirror the existing Rural Innovation Centre which provides fully-furnished offices on flexible short-term leases with access to ultra-fast broadband as well as reception, meeting and conference facilities.
Liz believes a combination of factors has attracted a constant flow of businesses.
She said:
The Rural Innovation Centre has more than proved its worth by helping many small and start-up businesses grow over the last two years, with several either taking on additional office space here or expanding elsewhere. Overall I think the professional and supportive environment of the Rural Innovation Centre coupled with the prestigious address and central location of Stoneleigh Park has proved to be a winning combination.The quality of the offices, the flexibility of the lease terms and the support that companies can tap into make it an attractive base for businesses looking to get off the ground or take a step up to the next level. It is hugely exciting for LaSalle to now be extending the Rural Innovation Centre which means that we will increase to a suite of 34 serviced offices and the reserve list we already have for the new units clearly bodes well for the future.