18 August 2016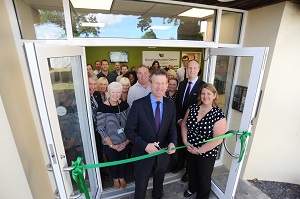 A new centre at a Warwickshire Science Park which aims to help small and new business to grow has been officially opened.
Phase two of Stoneleigh Park's successful Rural Innovation Centre was opened by Kenilworth and Southam MP Jeremy Wright.
The original centre has been doubled in size by LaSalle Investment Management following an investment of around £750,000 as part of its transformation of Stoneleigh Park.
The refurbishment of an existing adjacent building has created an additional 20 serviced offices and two meeting rooms.
The offices have been designed for businesses ranging in size from two to eight people and all have access to high-speed broadband.
Mr Wright said:
The Rural Innovation Centre was created to help small and start-up businesses flourish and this expansion is a testament to the number of successful, innovative businesses launched in this area in the past few years.
Phase two of the centre will provide similar opportunities to more companies who will be able to use the excellent facilities to develop their ideas and grow.
In total there are now 35 offices and 30 are currently let out to both new and expanding businesses and the centre expects to reach full occupancy soon.
Companies based at the centre can take advantage of other facilities at Stoneleigh Park, which include a children's day nursery, gym, café and farm shop and hotel.
The first phase of the Rural Innovation Centre was part of the Warwickshire Rural Growth Network, funded by DEFRA and led by Warwickshire County Council on behalf of the Coventry and Warwickshire Local Enterprise Partnership.
Warwickshire-based JW Contracts was the lead contractor for the refurbishment project.
Liz Burkinshaw, who manages the Rural Innovation Centre, says it is a combination of factors which has consistently attracted new businesses.
She said:
Since the Rural Innovation centre opened in 2013 we have seen a huge number of businesses grow, with several either taking on additional office space here or expanding elsewhere.
The quality of the offices, the flexibility of the lease terms and the support that companies can tap into make it a very attractive base for businesses looking to get off the ground or take a step up to the next level.
The completion of phase two of the Rural Innovation Centre means we now have a suite of 35 offices and with only a few offices remaining it's clear that there is a huge demand from local businesses.
To find out more about the centre, contact Liz Burkinshaw on 02476 998 500 or email elizabeth.burkinshaw@eu.jll.com.