19 September 2016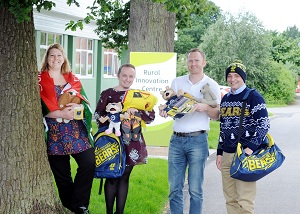 A company which designs and manufactures sports goods and products is aiming for the top of the league after setting up an office at a Warwickshire science park.
The Gift Scholars has moved into the Rural Innovation Centre (RIC) at Stoneleigh Park and has already secured contracts to supply branded merchandise to a range of well-known sports teams, charities and retailers.
Chris Rogers set the company up last November from his home in Leamington Spa after more than fourteen years working in fashion, buying and merchandising.
Typical products include 'back to school' items, such as stationery sets and luggage, homeware such as mugs, bedding, towels and curtains, gifts and novelties and mascot bears, toys and keyrings. Some of the company's customers include football clubs Celtic, West Ham, Millwall, Watford, Hull City, AFC Bournemouth and cricket side Birmingham Bears.
What makes the Gift Scholars different is that we specialise in all the major merchandising categories – whereas a lot of our competitors might just do keyrings and badges or only focus on soft toys,
Rogers said.
We have specific processes in place to manage each area of the order. As a result I believe our quality is the best, our prices offer the best value and our service is unrivalled. That's why we've called the company The Gift Scholars as we are genuine experts in the gift sector.
For a lot of buyers we are a one-stop-shop – rather than having to deal with different suppliers they can use us to get fewer deliveries, better pricing, more consistent packaging and shorter lead times.
As we establish a reputation for quality, service and price over the next 18 months we're aiming to secure deals with some of the top European football clubs and retailers. Word of mouth will be our biggest selling point as many buyers speak to each other and recommend the best suppliers.
Location, facilities and networking opportunities are the main reasons the company chose the Rural Innovation Centre at Stoneleigh Park as its base.
Rogers said:
I live just two miles away so the location is perfect for me. Everyone is very friendly and in terms of facilities there is everything you could need – there's conferencing facilities, a farm shop, gym and hotel.
It's also great that there are lots of potential clients on site so it's really useful for networking. We recently sent out a flyer to businesses on Stoneleigh Park and are already starting to see some orders come in from this.
LaSalle Investment Management which manages Stoneleigh Park has recently doubled the size of the Rural Innovation Centre, refurbishing an adjacent building to create an additional 20 serviced offices and two meeting rooms.
Liz Burkinshaw, manager of the Rural Innovation Centre, said:
The Gift Scholars is a very new company but has quickly been able to make inroads into its chosen market and we hope this new base can give them a springboard for further growth.
The company also appreciates the benefits of locating near other small and start-up businesses as well as some of the large national and international businesses which are based at Stoneleigh Park.
To find out more about the centre, contact Liz Burkinshaw on 02476 998 500. To contact The Gift Scholars email chris.rogers@thegiftscholars.com or call 07894 042 559.