20 September 2016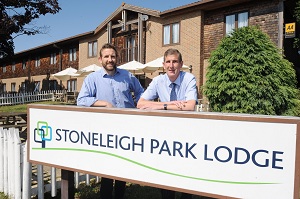 A hotel in Warwickshire has seen business boom following a five-figure investment to refurbish its interior.
Stoneleigh Park Lodge, set in the grounds of Stoneleigh Park, has been totally redecorated resulting in a boost to visitor numbers and food sales.
The hotel's 58 bedrooms are decorated on an annual basis, however this year an investment has also been made to re-vamp its public areas.
As well as the areas being re-painted, the hotel has invested in new furniture for its main bar as well as new air conditioning units for the bar and restaurant and the meeting room has also been refurbished.
As a result of its popularity, the hotel has seen a nine per cent rise in bookings as well as an increase in the amount of food sold.
Stoneleigh Park hosts a number of major national events including the British Showjumping National Championships, Race for Life, The Pet Show, The Edible Garden Show and the upcoming Glamping Show, which will be held from September 22 to 24.
Stoneleigh Park Lodge is operated by Grandstand – Stoneleigh Events, which manages the event spaces at Stoneleigh Park.
Ben Baseley, Venue Sales Director at Grandstand – Stoneleigh Events, said:
Our bedrooms are decorated on a rolling basis, however this year we have also invested in re-decorating and refurbishing our public areas.
The hotel is a fabulous venue in the middle of a unique 250 acre site and we wanted to ensure the interior matches its amazing exterior.
We are very pleased with the redecoration and refurbishment which has already received positive comments from our hotel guests.
We have recently seen an increase in bookings and are experiencing far fewer quieter periods. It used to be that our bookings were mainly driven by conferences and events at Stoneleigh Park, however we are now seeing a greater demand for the hotel outside of this.
We are seeing a lot of repeat visitors who are staying with us rather than venues in areas such as Coventry city centre and Leamington Spa to take advantage of the peaceful surroundings, which is fabulous.
It just shows that guests want to come back when you have excellent facilities teamed with great customer service. We look forward to welcoming even more visitors to the hotel in the future.