24 October 2016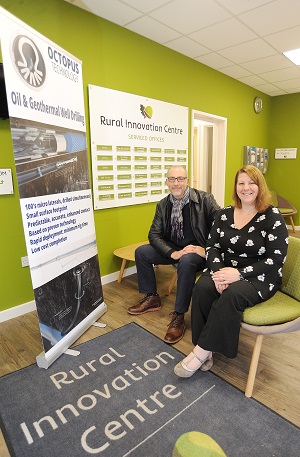 A technology and research consultancy is leading a pioneering project to develop an environmentally friendly alternative to fracking from a new base in Warwickshire.
Nota Bene Research has moved into an office at Stoneleigh Park's Rural Innovation Centre where it will work on a drilling technology to extract UK shale gas reserves.
The company was formed 11 years ago by chartered engineer Nick Barnett and during the past four years has worked specifically on securing research funding for projects in the oil and gas industry.
Nota Bene Research works alongside Octopus Completions which was set-up specifically to develop, test and commercialise the range of oil and gas well enhancement technologies.
Nick said:
Energy security is clearly a major issue for the country and the economy requires cheap energy. The price of oil is currently very low which is putting huge pressure on operators to find ways to cuts costs both in exploration and production from wells.
This drilling technology could provide an environmentally acceptable way of accessing the UK shale gas reserves.
The company estimates its 'no-frack' system will increase well output by at least a factor of three, in a shorter timescale and without the environmental obstacles of hydraulic fracturing.
The biggest improvement of our technology is the reduction to almost zero of the environmental impact, not just of the extraction itself but of the follow-on process. That makes it a much more acceptable way of extracting the gas,
said Nick.
Another potential application for Octopus technology is exploiting low and high grade geothermal resources and the technology could be further adapted for extracting water from deep aquifers – for example in the North African countries from Morocco to Tunisia where extensive water reserves have recently been discovered.
With prototype development about to start, Nota Bene Research is planning to take on two permanent staff and a contract designer early next year.
Nick said the move to Stoneleigh Park from an office in his home in Tile Hill, Coventry made perfect sense.
The atmosphere on the park is fantastic – I can cycle to work and walk to lunch with the sound of birds and surrounded by green space. It's also excellent for networking which is something you certainly can't do when you're based at home!
My ambition now is to expand the business. I'm currently looking for a workshop where I can run small scale lab trials to test the equipment and the park offers the flexibility to accommodate that.
LaSalle Investment Management, which manages Stoneleigh Park, has recently doubled the size of the Rural Innovation Centre, refurbishing an adjacent building to create an additional 20 serviced offices and two meeting rooms.
Liz Burkinshaw, manager of the Rural Innovation Centre, said:
Nota Bene Research is working on technology which could make a huge difference in the sustainable extraction of shale gas.
It is exactly the sort of innovative business the centre is designed to support and we look forward to assisting with the ambitious growth plans Nick has in place.
To find out more about the centre, contact Liz Burkinshaw on 02476 998 500.