28 November 2016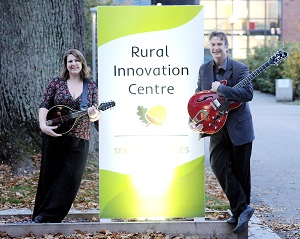 An innovative guitar school says it has hit the right note at its new Warwickshire home.
PlayableGuitar has moved into Stoneleigh Park's Rural Innovation Centre and the business builds on the website which has provided free resources to aspirational guitar players, schools and colleges for the past two years.
The new office has facilities for music editing, producing tutorial videos and even has its own small recording studio.
Jon Rothenberg, the man behind PlayableGuitar, began teaching guitar 35-years ago in Washington DC. He later went on to complete a degree in music and production at the Berklee College of Music in Boston, USA.
Alongside the business, Jon works four-days a week for Warwickshire Music helping with tuition in local schools and previously worked full-time as Head of Music for the Warwickshire College Group.
He has a rich history in music, playing with local artists from bands like The Specials, The Beat and King – also playing support for iconic artists such as Chubby Checker in his career. His own students have gone on to star in X-Factor finals, professional bands and taken teaching roles all over the country.
Jon said:
PlayableGuitar started up two years ago, over the years I've taught all kinds of people and always find a way of helping them overcome their obstacles.
Anyone can play guitar, it's just about finding what's playable for them, finding what works for them, meeting the needs of that individual person and helping them reach the next level.
Originally from Washington D.C, Jon made his move to the UK as a result of working as a technician for artists such as U2, David Bowie and The Pogues. He then joined Midlands-based band Gayle Warning Band, touring the UK and the continent.
After working on projects from London to Boston, Jon returned to teaching guitar in Warwickshire and 15 years on has set-up at Stoneleigh Park.
He said the location immediately struck a chord.
It's brilliant, I love it. The office is easy to get to and the area itself is really lovely and secure, plus they are well looked-after and well managed,
said Jon.
I needed somewhere within my budget for me to make music, record videos and teach my private lessons and this place has everything I need. I was one of the first in the new development here in the Rural Innovation Centre and it has been a fantastic move for me.
Jon currently has around 15 students, with others who attend on an ad-hoc basis.
I hope to keep growing PlayableGuitar. I have so much more material to put online and I'm really excited about running the new adult evening groups and Club Americana, teaching unique styles from back home,
he added.
LaSalle Investment Management, which manages Stoneleigh Park, has recently doubled the size of the Rural Innovation Centre, adding an additional 20 serviced offices and two meeting rooms.
Liz Burkinshaw, manager of the Rural Innovation Centre, said:
PlayableGuitar does a wonderful job in helping absolutely anyone learn to play.
This space was created to give businesses such as this a home and we look forward to seeing a host of new musicians emerging from Jon's tutelage.
To find out more about the centre, contact Liz Burkinshaw on 024 7699 8500.