09 December 2016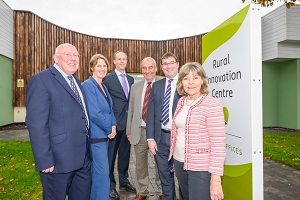 The trio of people behind a pioneering business development have been invited back to celebrate its highly successful off-spring.
The Rural Innovation Centre (RIC) at Stoneleigh Park was created three years ago, after a bid to DEFRA to win funding to help businesses in rural areas.
Warwickshire was one of just five Rural Growth Network (RGN) pilots in the country which provided a flexible package of advice and support to rural businesses in any sector and people looking to start their own business.
Part of the successful bid was the RIC concept and the centre subsequently opened in September 2013. It had room for 16 companies as well as meeting space and hot-desking and was fully let in around six months
Louise Bennett, chief executive of the Coventry and Warwickshire Chamber of Commerce, David Ayton-Hill of Warwickshire County Council and Denis Chamberlain of Stoneleigh Park made the case to create the centre.
That success promoted Stoneleigh Park to create an additional 20 serviced offices and two meeting rooms which opened in August this year and is also fully let.
To mark the expansion, Stoneleigh Park invited the trio back for a tour of RIC 2 – and to discuss plans for further future developments to allow the companies there to expand.
Colin Hooper, Estates Director of Stoneleigh Park, said the developments would not have happened without the efforts of the bidding team.
To have gone from bidding to being the home to 30 growing companies in a matter of a few years is a really great achievement to Stoneleigh and for the region,
he said.
Louise, David and Denis – backed by Stoneleigh – really bought into the idea and presented a strong case to DEFRA and were successful. The fact the scheme has proved so successful and still has potential only underlines the strength of their case.
They had to prepare a huge amount of evidence and put in a great deal of work for their pitch but it has proved really worthwhile.
The RIC I was part of Rural Growth Network funded by DEFRA, and led by Warwickshire County Council on behalf of the Coventry and Warwickshire Local Enterprise Partnership, but Stoneleigh Park's owners LaSalle Investment Management funded RIC 2 privately.
Colin added:
Getting the bid team back together again also allowed us to look at how the concept might develop in the future. Clearly we have tapped into a demand which is good for us, good for the companies involved and also for the local economy.
Companies in the RIC buildings are from a range of sectors including agriculture, engineering, recruitment and events.
To find out more about the centre, contact Liz Burkinshaw on 02476 998 500 or email enquiries@ricoffices.co.uk.