21 April 2017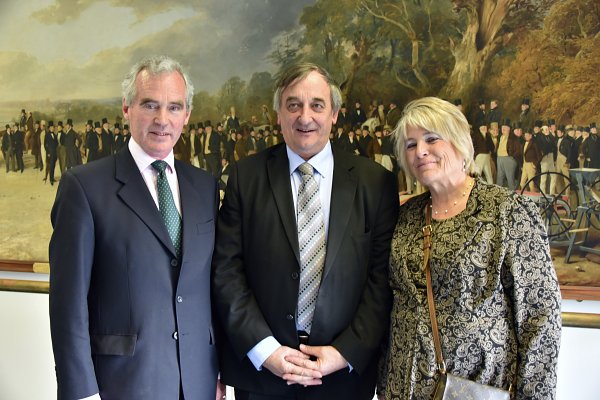 NFU President Meurig Raymond welcomed marketing and PR consultancy Kendalls to its new offices at Stoneleigh Park at a celebratory networking reception hosted at the Royal Agricultural Society of England's council chamber.
Mr Raymond was joined by colleagues from the National Farmers Union, alongside invited guests and senior executives from many of the leading land-based organisations, associations and enterprises based at Stoneleigh Park, to mark the official opening of Kendalls' Warwickshire head office.
Addressing the guests, Mr Raymond spoke of his great admiration of Kendalls' long-track record over 40 years of championing the UK food and farming industry, and other rural enterprises, as the consultancy begins a new chapter at the national home of agriculture, Stoneleigh Park.
He said:
As article 50 is triggered and the Brexit wheels are set in motion, now is perhaps the most defining time for the agricultural industry in all of the four decades that Kendalls has represented the sector, from offices in London, Cardiff, Herefordshire and Suffolk.
Kendalls' understanding of an industry worth £108 billion to the UK economy, more than the automotive and aerospace sectors combined, alongside its great strength in political lobbying, will see it play an important role as agriculture moves into unchartered territory over the next few years.
Standing behind a wall-length picture at the RASE council chamber rooms, Kendalls' managing director Andrew Kendall had one eye on the past as he looked to the future for his business and the agricultural sector.
He said:
It is somewhat serendipitous that I stand in front of such an impressive piece of art that was once housed in the RASE offices in Belgravia, London in the building in which Kendalls had its first London offices.
Indeed, I stood some 35 years ago in front of this very same picture addressing a similar audience, and it is with great pleasure that today I am joined by so many influential figures to mark our move to Stoneleigh Park alongside key industry bodies such as the NFU and AHDB, as well as the many industry associations and enterprises.
Concluding, Mr Kendall said:
I would like to thank Meurig for his kind words and support, and we look forward to working with organisations on-site here at Stoneleigh and across the country to lead UK agriculture and rural businesses through a time of much challenge, but also of great opportunity.
Kendalls is a PR and marketing agency specialising in agriculture, rural affairs and associated industries, ranging from environment and energy to animal health and welfare. It also has a range of clients in other sectors covering healthcare, professional firms, charities and small businesses.
The consultancy offers a fully integrated range of PR and marketing services, including media relations, political lobbying, issues management, public relations, advertising, design, print and event management.