13 July 2017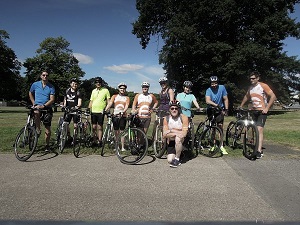 Colleagues at energy consultancy FEC Energy based at Stoneleigh Park in Warwickshire have been cycling around the county and singing their hearts out for mental health charity Mind.
Eleven members of staff took part in a 50-mile bike ride that started and finished at Stoneleigh Park. The route took them around four hours and through Hunningham, Grandborough, Harbury, Offchurch and other local Warwickshire villages.
Bike ride organiser Jon Swain, Senior Engineer at FEC Energy, said:
Thank you to everyone who sponsored the riders and to all those who took part in what was a hugely enjoyable ride with plenty of challenge.
Cycling down the Main Avenue at Stoneleigh Park with our director Andrew Kneeshaw after 53 miles completed and everyone safely back, emphasised for me how much can be achieved when you put your mind to it – great effort!
On the cyclists' return to Stoneleigh Park, FEC Energy's 50th anniversary party got underway. Around 80 people including staff members, friends and family enjoyed a barbecue supplied by Stoneleigh Park's Farmers Fayre, along with a raffle and games to raise money for Mind.
The company's talented musicians and singers then took to the stage for one night only as the FEC Band to entertain the party goers.
Andrew Kneeshaw, director of FEC Energy, said:
It was a relaxed, fun and enjoyable evening with everyone supporting those in the band although we perhaps played a few wrong notes!
FEC Energy has a number of other fundraising activities taking place throughout the year for Mind including walking 50 miles around Warwickshire and the September Wolf Run. To support FEC Energy's fundraising; donations can be made at https://www.justgiving.com/fundraising/fecenergyturns50