09 August 2017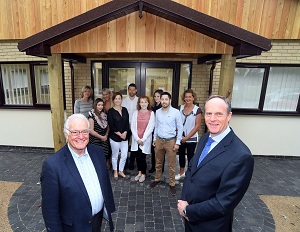 The international headquarters of the global trade association for the motorsport industry is expanding into larger premises at Stoneleigh Park in Warwickshire.
The Motorsport Industry Association (MIA) has outgrown its base at Stoneleigh Park, at the heart of Motorsport Valley UK, and is moving into new offices on the estate to service the needs of its increasing worldwide membership.
Around £300,000 has been spent by LaSalle Investment Management, which manages Stoneleigh Park, to refurbish an existing building for the MIA, founded in 1994 with the aim of promoting the UK's successful motorsport industry.
The MIA has since grown to represent nearly 300 international corporate members within the motorsport, high performance engineering and services sectors, whose companies collectively transact more than £9 billion of motorsport business worldwide.
Chris Aylett, CEO of the MIA, said:
We are the only trade association in the world catering for the business of motorsport and represent the needs of many members including F1 teams such as McLaren, Force India and Williams.
Our move into bigger premises at Stoneleigh Park is due to the expansion of our activities brought about by our growing membership and the need for more staff to service their requirements. We have recently expanded by opening offices in China and America.
Motorsport as an entertainment is rapidly increasing in popularity. The UK's Motorsport valley is the largest cluster of motorsport entertainment businesses in the world. The UK-based motorsport industry has annual sales exceeding £10 billion and employs 50,000 people.
The MIA helps to maintain the positive image of motorsport and supports the growth of its members through various activities, working with governments on international trade, and providing training and business networking opportunities.
Chris said:
Our HQ moved to Stoneleigh Park about 17 years ago due to its central, yet rural, location, ease of access and free parking. We needed room for further expansion and all my colleagues were keen to stay here.
We are extremely pleased with the superb finish and quality of the refurbishment which will enable us to better utilise our space, to work with the speed and efficiency associated with the industry we represent.
The work was carried out by Warwickshire-based JW Contracts and Services Ltd, the main contractor for refurbishment projects undertaken by LaSalle at Stoneleigh Park.
Colin Hooper, estates director at Stoneleigh Park, said:
"The MIA is a long-standing tenant at Stoneleigh Park and we are delighted to be providing the association with a new home to maximise its opportunities.
The office space is almost twice the size of its previous premises and we have carried out a significant refurbishment to high standards to provide a modern and efficient working environment.