30 October 2017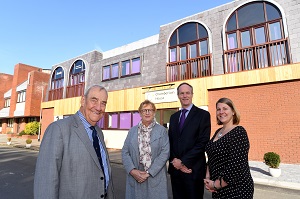 The third Rural Innovation Centre to be created at Stoneleigh Park in just four years has been named after one of its champions.
Chamberlain House has been unveiled by Denis Chamberlain, who was instrumental in making the case for the original centre to help small and new businesses in rural parts of Warwickshire grow and flourish.
Denis helped put forward the concept of the Rural Innovation Centre as part of a successful bid to DEFRA.
The bid was led by Warwickshire County Council on behalf of the Coventry and Warwickshire Local Enterprise Partnership to win funding to support businesses and boost employment in rural areas through the Warwickshire Rural Growth Network.
The first phase of the Rural Innovation Centre was opened in September 2013 and due to continued demand it has now twice been extended by LaSalle Investment Management, as part of its on-going transformation of Stoneleigh Park.
An adjoining building was converted in 2016 to increase the high-quality serviced offices from 16 to 35. A separate two-storey building, which backs onto the original centre, has now been converted to take the total number to 45.
After LaSalle took responsibility for Stoneleigh Park in 2010 under a 150-year lease from the Royal Agricultural Society of England (RASE), Denis was appointed ambassador of the site to help spearhead its development as a centre for agricultural excellence.
He is one of the most experienced figures in farming and has a long association with Stoneleigh Park, including as a former chief executive of RASE.
At the official opening, Denis said it was a great honour to have the third Rural Innovation Centre named after him.
He said:
The development of the Rural Innovation Centres, of which this building is the third, is a project that has its roots in a grant that with Warwickshire County Council and the Coventry and Warwickshire Chamber of Commerce, we obtained from DEFRA to stimulate entrepreneurial activity on this site and across the county.
The fact that we are opening the third, and have plans for a fourth, speaks volumes for the success of that project.
It gives me great pleasure to mark the further growth and expansion of Stoneleigh Park as a key employment centre in Warwickshire and open Chamberlain House.
Colin Hooper, estates director at Stoneleigh Park, said the office spaces in Chamberlain House are generally larger than those in the first two phases to accommodate the needs of expanding businesses.
He said:
The Rural Innovation Centre is a hugely successful development at Stoneleigh Park and contributes to the record number of businesses and employees on site.
"LaSalle has invested in the region of £1.3 million in the project as a whole to help create and expand the perfect business incubation environment which has so far provided a platform for around 70 small and start-up companies.