06 November 2017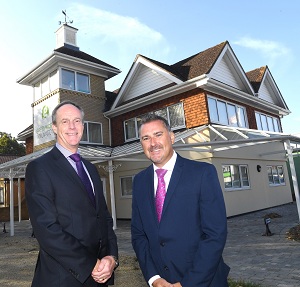 A company providing innovative environmentally-friendly cleaning products and servicing to commercial outlets throughout the UK and Europe is expanding from its headquarters at Stoneleigh Park in Warwickshire.
Kevin Morgan, who is vastly experienced in national service delivery for blue-chip companies, has been appointed managing director to lead Greenworld Innovations through the next stage of its development.
The company is best-known as the UK and European distributor for a revolutionary system, known as Tersano lotus PRO, which turns water into the world's most environmentally-friendly cleaning product.
It transforms water into stabilised aqueous ozone, a powerful natural solution which eliminates the use of chemicals in cleaning, and is used by worldwide brands including McDonalds, RBS and PwC.
Since moving to Stoneleigh Park last year, it has added to its product portfolio with the i-range of cleaning machines and equipment, and AirSteril technology which cleans air and surfaces to eliminate odour and health risks in enclosed public spaces such as hospitals.
GreenFit Solutions has also been launched to provide a dedicated service delivery arm with a nationwide team of engineers able to install and maintain water and cleaning equipment, and is already working with household names such as Homebase, B&Q and Brita.
Kevin, who was previously national services manager for B&Q and has held similar roles with Kingfisher and Homebase, has now joined to lead the company's continued growth.
He said:
I had worked with Greenworld Innovations as a customer and was impressed by the company's technical knowledge, customer service and commitment to sustainability.
The combination of those qualities and the recent launch of Greenfit Solutions gives the company a great competitive edge.
We are on track for significant growth in 2018 and beyond, and I am looking forward to helping develop the many opportunities that lie ahead both in terms of service delivery and forward-thinking products.
The company moved to Stoneleigh Park because of its green credentials and it has proved to be the ideal environment in terms of our ethos and ambition.
Colin Hooper, estates director at Stoneleigh Park, added:
Stoneleigh Park is home to many innovative businesses and with its pioneering products and services, Greenworld Innovations is a welcome addition to the site.
It is great to see how the company has grown since moving here and we look forward to supporting Kevin and his expanding team as it develops further.