10 September 2018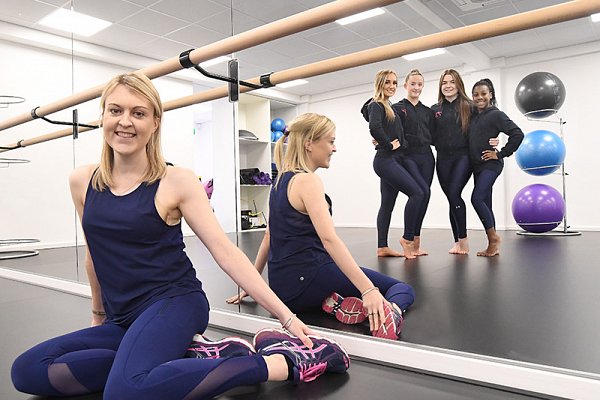 A Team GB physiotherapist specialising in the treatment of elite athletes and performing artists has expanded her Warwickshire clinic to support rapid growth.
Louise Curley has seen her client base significantly grow since launching the Rejuven8 Physiotherapy Clinic at Stoneleigh Park just two years ago – and hopes the move into much bigger space on the estate will act as a springboard for continued expansion.
She has taken Rejuven8 from a traditional treatment room to a state-of-the-art clinic featuring high-tech equipment including a fully sprung dancefloor, used by professional dancers.
Louise said:
It means that I can now offer a broader range of prehabilitation and rehabilitation physio-led services designed to optimise the health and performance of all patients.
Treatment is always tailored to an individual's needs whether they wish to return pain free to daily activities or compete and perform at an elite level.
Louise treats young British, European and World Champions from a range of sporting disciplines, and provides physiotherapy support for British Gymnastics at national and international competitions.
Since opening the clinic, she has launched an ambassador programme to sponsor ambitious, inspirational and talented individuals to help them achieve their highest potential.
Her ambassadors range in age from 11-year-old tumbler Naana Oppon, a world champion bronze medallist, to 23-year-old Mimi-Isabella Cesar, three-times British senior all-around rhythmic gymnastics medallist who most recently represented Team England at the Commonwealth Games.
She also works with the British Association for Performing Arts Medicine and with the new dancefloor, plans to build on her treatment of dancers and musicians, as well as launching physio-led exercise classes including Pilates and yoga to the wider public.
Louise said:
The clinic has gone from strength to strength, drawing patients from the Midlands and beyond which means I need to pull my plans forwards with regards to taking on more team members.
Stoneleigh Park is ideal as a base because it's easily accessible and has plenty of parking which makes it hassle and stress-free. A relaxing environment is so important because it means people get the most out of their treatment.
Colin Hooper, estates director at Stoneleigh Park, said:
It is great to see how well Rejuven8 has taken off at Stoneleigh Park and for it to be able to expand here as Louise looks to create a world-class rehabilitation centre.
Her work with some of the country's most promising young athletes is testament to her reputation in this specialist field, and her plans to gain a stronger foothold within performing arts is an exciting development.