23 November 2018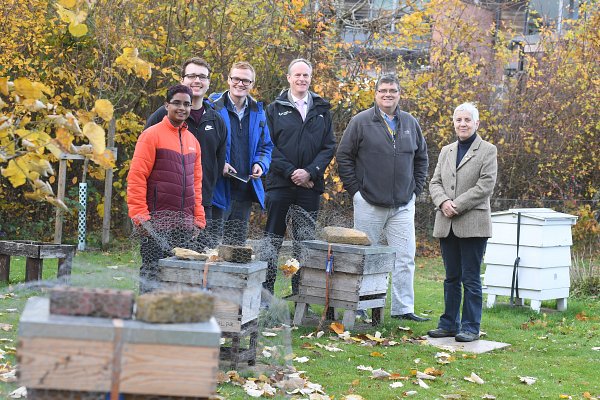 Local horticulture students are helping transform the apiary at the National Beekeeping Centre in Warwickshire to inspire a new generation of beekeepers – thanks to a Coventry man's legacy.
The BSc Horticulture students from Pershore College, near Evesham, part of WCG, have been tasked with coming up with a new design for the apiary, which is home to some 500,000 honey bees, so that it can be opened up to the local community.
The apiary is part of the National Beekeeping Centre established by the British Beekeepers' Association (BBKA) at Stoneleigh Park in 1965, and is currently only used for beekeeper training and exams.
The BBKA wants to turn the apiary into a learning centre for local schoolchildren and community groups to educate them about the importance of bees and beekeeping. It also plans to remodel its adjacent headquarters to create indoor learning spaces for schools.
It is hoped that the project will ultimately be expanded nationwide, with regional beekeeping centres being established by the BBKA's area associations which act as hubs for its 25,800 members.
The project has been made possible by the BBKA receiving a significant legacy from James Henry Hopkins, a prolific beekeeper from Coventry whose wish was that his gift be used specifically to benefit educational work.
A tree has been planted at the apiary in memory of James, who died in 2013 and to whom 'bees meant the world'.
The project is being overseen by Margaret Murdin, president of the BBKA, who said the legacy had allowed the association to "think the unthinkable".
She said:
We were very fortunate to receive this very generous gift and have actually spent five years thinking about how we can make best use of it.
Based upon our research, we think that adapting the apiary and our building for local schools and community groups will be a really good legacy. There is a real need to recruit beekeepers and we hope the project will encourage a new generation.
We are delighted to have the support of Pershore College and are really looking forward to seeing the results of the students' design work.
Pershore College got involved through Colin Hooper, who is estates director at Stoneleigh Park and also a governor of WCG, the group of seven further education and specialist colleges based in Warwickshire and Worcestershire.
The students have been given a brief which includes providing a building for visitors to view the colonies, a sensory area and bee-friendly planting.
Mike Roberts, garden design lecturer at Pershore College, said:
Our students are undertaking survey and appraisal work and will report back at the end of January with their ideas and will present them to the British Beekeepers' Association.
We have had a relationship with the association for a while now. Two members of our staff are very keen beekeepers and each summer the association holds a summer camp course at our campus.
It is great to have a real-life project for our students to work on. It is one thing working on theory and in the classroom but this sort of real-life project will prove invaluable.