19 March 2019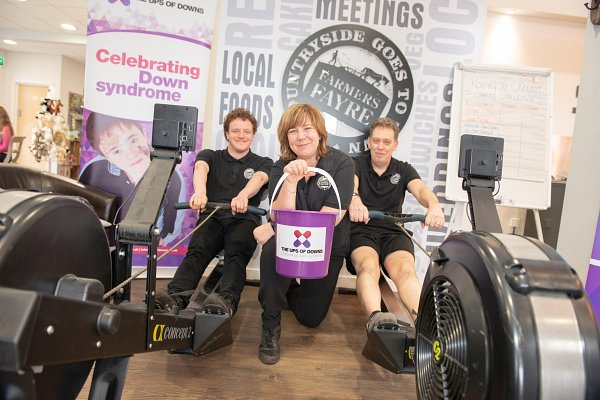 A Warwickshire farm shop and kitchen's year of fundraising is seeing businesses go head to head in a 21-mile charity challenge which will culminate on a poignant day.
Farmers Fayre at Stoneleigh Park is holding a charity row in aid of The Ups of Downs, a Leamington-based charity which supports children with Down syndrome and their families throughout Warwickshire and the surrounding counties.
Teams from across Stoneleigh Park are competing to row 21 miles on rowing machines in the fastest time and raise as much money as possible for the good cause.
Those taking part include Farmers Fayre, Faber Fitness, NFU, The Pony Club, Tisski Ltd, Hart & Co and NFU Energy.
The challenge is seeing two teams competing per day and will culminate on World Down Syndrome Day on Thursday, March 21.
It is one of a number of events planned throughout 2019 to raise funds for The Ups of Downs, Farmers Fayre's chosen charity for the year.
Nicola Reece, director of Farmers Fayre, said:
We've had an amazing response from businesses across Stoneleigh Park, with so many people wanting to get involved in our charity row.
Some businesses have submitted teams of people to take on the challenge, but we also have some individuals who will be rowing the whole 21 miles themselves which is incredible, and we're hoping our customers also dig deep to show their support.
The 21 miles not only represents the miles of the English Channel but also chromosome 21, and it is very poignant that the event will finish on World Down Syndrome Day chosen as March 21.
The Ups of Downs is an excellent charity which provides valuable support to families right across the area, and we hope to raise as much money as possible during the challenge which will go towards our £5,000 fundraising target.
The Ups of Downs aims to empower parents to give their child with Down syndrome every opportunity to develop, flourish and achieve, by providing them with the knowledge, confidence, ability and resources.
The group has grown to more than 70 families and runs weekly groups for members from birth through to teenagers, as well as additional activities including monthly meetings at Wren Day Nursery, also based at Stoneleigh Park.